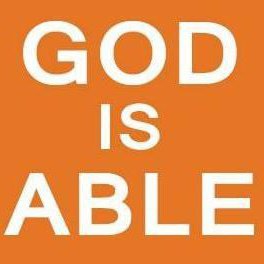 Updates
Updates are organized from most recent to oldest, beginning at the top.
5/14 - Bro. Fred & Cindy went to Mayo and found out that the cancer is curable! Praise the Lord! Being curable entails treatment in the coming weeks. Please keep praying as Bro. Fred will undergo treatment.
5/9 - The PET Scan showed that the cancer is CONTAINED to Brother Fred's lower esophagus and is nowhere else. Praise God!
5/8 - Praise God - Mayo appointment bumped up to 5/14!
5/7 - Referral to Mayo for 5/20
5/2 - Diagnosed with Esophageal Cancer
May 20
When you first learn you have cancer, there are so many feelings you can hardly calibrate them all. Until you start treatment, you feel you are wearing a powerful bomb vest that is ticking by the second to that final tick when it blows. Beginning treatment can't happen fast enough. We had an appointment at Mayo for May 20, but I wanted an earlier date if at all possible. So I began stalking patient services checking twice a day to see if there are any cancellations. Monday, May 13, I called first thing and discovered they had a cancellation for the next day Tuesday, May 14. I secured that appointment, and we spent several hours at Mayo getting set up. The next earliest appointment with the Radiation Oncologist was May 24. I called Wednesday, May 15 to see if we could get an earlier date and there were none available. I called Thursday morning, May 16, and they had a cancellation for the next day Friday, May 17, so we took that appointment. I was thrilled to be riding this cancellation train for earlier appointments!
We spent a great deal of time with the Radiation Oncologist and had many questions. Fred and I peppered him with questions for almost an hour. One thing at Mayo, they love to educate you, so we got a good bit of information. At the end of the appointment, we asked the Dr. all the questions we had, and the Dr. told us we would need to make an appointment for the "simulation mapping." This mapping is where they put you on the table and map out your treatment using CT imaging, computers, and technology. "Wait" is now a four letter word in our journey, so I took a deep breath and asked if we could get something earlier than the end of May. The nurse smiled benevolently at me and said she doubted it but would check. While we were sitting in the room about 3 PM she looked up surprised and said they had a cancellation for 4 PM, in one hour, did we want that? Yes, please, let us open another delicacy at our table in the wilderness.
Oncology completed the simulation-mapping, and Fred starts treatment soon. It is times like this that I relate very strongly to the Exodus story in scripture. I could almost feel the breeze of the parted Red Sea on my face as we walked a step closer to treatment on the dry ground of provision provided by God. To be clear, this is not a journey I would even remotely want. However, here we are, and we will journey in this desert wilderness together hand in hand strengthened by the prayers and love of our family, and brothers and sisters in Christ. We will also enjoy the table in our wilderness that God continues to set for us daily with incredible delicacies.
I understand how the Hebrew people could get discouraged in the wilderness. The unfamiliar landscape of crisis makes you long for the scene that was familiar and predictable. But what if God wants to shake us out of our comfortable mundane to the thrill of marvelous? How much courage do we have when it comes to this unconditional faith? We are learning a higher level of courage and developing a stronger unconditional faith. I have learned that the best explanation of courage is to just show up and let God turn your "show up" into courage. Best yet, we can both assure you unequivocally that God does spread a table in the wilderness and anywhere else he chooses. It is a most beautiful table set so personally that at times it is downright breathtaking to see and experience. God Is Able - Keep praying!
Cindy
The Beautiful Word "Curable".
5/14 - Today was our day with the Oncologist at Mayo. We spent almost 3 hours being processed, educated, and treated. Our brains are still swirling with all the information given to us but one word that slammed into our minds was a word that is so very beautiful and up to now had been elusive, curable. Another lovely word that comes from curable is hope. In this whole faith journey into the wilderness, the two words that God served as delicacies today are curable and hope.
Curable looks like radiation, chemotherapy, and at the right time surgery. All of this sounds so daunting and hard, but really, it isn't. It is hope and curable. Your prayers have been incredible, and we have felt every one of them, especially in the wee hours of the morning when the enemy baits us into "the what if" woods. Prayers, yours and ours, have been our encouragement and our peace. As we continue to watch God set the table for us in this wilderness the one delicacy that will be on our table as of today is the delicacy of curable.
Keep praying for us in the weeks to come as Fred starts treatment and we will update when we have more information. We are grateful to our family, our church family, Tift Regional Health System, and our community for the tremendous outpouring of support we have received. As we start this phase of our wilderness journey, we are thankful, optimistic, and full of hope as we remember that beautiful word - curable.
Cindy
Mayo Day
5/13 - Tomorrow is Mayo day and is the day we meet with our Oncologist, Dr. Judah (I kid you not this is his name, how amazing!). We will hopefully get a direction and a plan for treatment at that time. We ask that you continue to remember us as we walk this particular wilderness. Each day the table looks different, and God continues to set an incredible table with just the right delicacies to guard our hearts and to reinforce our faith. I am getting much better at handling the fear and staying out of the "what if" woods. The enemy-liar loves to bait me there, and I have learned to remember quickly what a liar he is. Jesus himself advises this; "He was a murderer from the beginning, and does not uphold the truth, because there is no truth in him. Whenever he lies, he speaks according to his own nature, because he is a liar and the father of lies." John 8:44b. I am learning to remember this first and trust God for whatever his will is. I am learning that when you try to control faith; it isn't faith. Faith to me is the laser focus on Christ and not the crisis. It is asking for your heart's desire but trusting God to form and fashion the hope. Faith doesn't fear it remembers.
Another delicacy on the table is the tremendous love and support we are receiving. It is the most humbling and overwhelming thing I have ever seen. It is much easier for Fred and me to be on the giving end of things. We do this with joy, as it is how God wired both of us. However, to be on this end is a weirdness we are learning to calibrate. I have seen an incredible clarity in the deeper level of humility that receiving requires and how it is changing us both in the few short days since our diagnosis. Humility is something we all try to have, but frankly, it is frightening to think about how you get there. I wonder if God loves humility so because it deepens our dependence on him. I have seen Fred's heart grow even stronger, if that is possible, in his entrusted as a Husband, Father, Grandfather, and Pastor. For me, it is rising strong and learning that faith doesn't fear it remembers what God has done in the past for me. I have much to remember, and I am learning to make those memories my default over the fear.
Keep praying for us. I have seen the power of prayer in other's lives as well as my own. When I see my granddaughter, Madi, run on the playground, she is a living breathing witness of the power of prayer. When she colors on her Momma's walls, she is a witness to the power of prayer. I could go on and on, but you get the picture. Pray for us in the days to come.
Cindy
Mayo Maze
After the diagnosis of Esophageal Carcinoma came the testing, then came the referral to the Mayo Clinic in Jacksonville, FL. When you have cancer and need treatment the thought of waiting one more day is frightening. It was imperative that we get in as quickly as possible to determine and begin the best course of treatment. We are learning so much about cancer. We got an appointment for May 20th that was a cancellation. While we were grateful to get it, I wanted to push to get an earlier one. Every day this tumor is in Fred's esophagus is one day too long. The appointment people at Mayo offered that I could call daily and see if they had any cancellations. I felt my heart sink but decided to ask everyone to pray. I mean everyone. Today is May 9th and Mayo's appointment department called to tell me they had an appointment available for May 14th and did I want it. YES!!!! I want it.
My fascination with Psalm 78:19 continues to grow as God continues to spread a table for us in the wilderness. The even earlier appointment is yet another delicacy at the extravagant table that God is setting for us in the wilderness of cancer. We will be at Mayo on the 14th. We will continue to walk this wilderness of cancer. One thing we will not do is ask, "Can God spread a table in the wilderness?" I know he does. I am watching him do it, and I will never forget it.
Cindy
Diagnosis
A few weeks ago Fred's reflux became worse, and he went to his Dr. who referred him to a Gastrologist. After performing an endoscope, the Gastrologist diagnosed him with Esophageal Carcinoma. I can't tell you what a shock this was to both of us. We cried, prayed, and promised God we would trust him through this. We have never asked why - not once. We are asking him to show us what he wants us to see through this and to strengthen us. A couple of weeks before his diagnosis I became fascinated with a verse of scripture. I studied it frequently and intensely. The scripture is Psalm 78:19; "They spoke against God saying, "Can God spread a table in the wilderness?"
In our struggle to get our footing this scripture once again grabbed my heart, and I shared it with Fred. We both immediately understood. There are times in our lives when we will walk in the wilderness of crisis. Our hearts will be afraid, uncertain, and let's face it; our faith will not always be perfect. It is through the crucible of crisis that we learn to trust God. In this trust, God may choose to deliver a different way. We may not get the Hallmark ending we so desperately want but faith means that we walk and he leads.
I can't tell you we don't have times of fear. Any cancer diagnosis will bring fear, and we are scared. What I can tell you is that God has begun to set an extravagant table for us in our current wilderness. Our children and grandchildren have been a tremendous support. The Medical Staff at Tift Regional has been amazing. We appreciate the professionalism and compassion they have shown us with not just the diagnosis but the scans, blood work, tests, etc. Our Church family has been nothing short of heroic in their love and support of us. To see this level of support is humbling beyond words and reflects the love of Christ that scripture reveals. We are blessed, and Christ himself is preparing our table in the wilderness of cancer. It is shaping up to have great delicacies as well as beautiful china, crystal, silver, and linens. The extravagant table is such an odd thing to see in the bareness of the wilderness but so like Christ.
Keep Fred and me in your prayers as we walk in this wilderness. Our God is able, especially in the wilderness.
Cindy